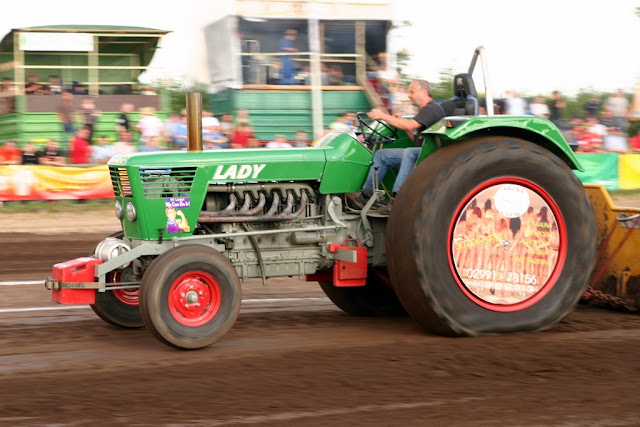 I have just returned home from one of the most different Pulling Team's parties I've ever been to. Some of you might know the "Team Daisy", which is competing with two Deutz tractors in the German sportclass.
Last year they've pretty much shocked everybody on the circuit with a new sponsor on their tractor.
The "
Saunaclub Parkschloss Dali
(do not click when under 18), jumped on board to help funding the team and put two disks in the backwheels of the "Lady" tractor, with a picture of some nice naked butts...
All year long people were trying to spy the other side of those disks and the going joke of the announcers was, that after 10pm the tractor would run with the disks turned around (but because of noise limitations we usually can't pull after 10p.m. here anyways).
Anyhow - the team won the german championships and that of course means they have to throw a party for their friends out of the circuit.
The invitation arrived in my Email box about 3 weeks ago and I asked where the party would be, expecting a cleaned out barn and plenty of that good beer they brew in that area.
I must say I was puzzled when the reply "at our sponsor" came. - "Oh my god..."
So, yesterday a bunch of pullers out of the north western pulling circuit met at Heiko Behle's farm and then later checked in at a hotel next town.
At around 7 it was time to leave for the club and with two vans we were brought to "Parkschloss Dali".
After arrival we were very friendly welcomed by the boss of the house and a group of beautiful girls in bikinis (or parts of those), who then gave us a tour through the building.
As the Daisy Team members told me, this was the first time for them to see the building from the inside, too as before they only had been there to discuss sponsorship related things. I then asked them, how in the world they got this place to sponsor them. "We've just asked them if they agree on the fact motorsports and beautiful girls belong together..."
Well - the old house - how odd - used to be a ministry school and has been really nicely restored for it's current purpose. In the ground floor they have a wellness area with whirlpool and sauna, as well as a bar with table dance, while upstairs you can rent several different theme rooms "by the hour".
We didn't really plan on that and gathered up in the table dance bar, where we all got free beer and got to see two "dance shows", put on especially for us.
After some more beers, we got a room all for ourselves with an excellent buffet, that probably nobody had expected in this location. After dinner it was back into the bar for most of us, while others tried the whirlpool, did some "social observations" or chatted with the girls, who, even after figuring out our group was not really good for buisiness, were great to talk to and would answer any questions we had.
Anyhow - after more beer, fuel talks and another live show we were brought to another sponsor of the team, the "
Willinger Brauhaus
" (actually another big club with dance floor - but the girls a little bit more dressed) were we got to try some excellent beer and finished the evening. At the breakfast table back in the hotel the next morning everybody was sure, that this party would stick in our memories for quite a while. The way they handled this tricky situtaion at "Dali" was just simply proffessional and for most of us a "once in a lifetime" experience, that you probably can't make in daily life.
I would like to thank the Daisy Team and all others for a nice evening!